The Sixties . . . (Page 2)

Eight months later, the follow-up single, "Paradise", with its infectious singalong 'La la la las' was released. This one also garnered moderate regional airplay and sales, especially on the West Coast, but ultimately failed to capture national attention. The song "bubbled under" at #126, but the "Paradise" recording session was to yield a million selling chart-topper!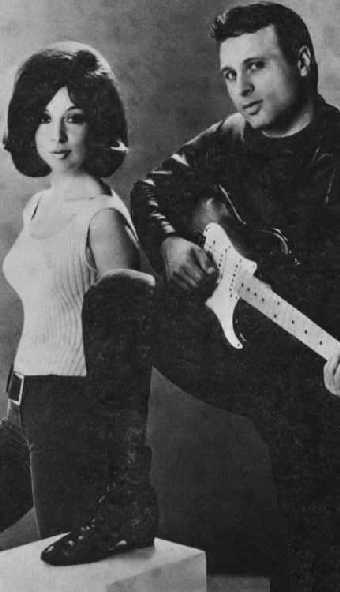 April originally thought of the idea to sing "Deep Purple." Recalls April: "In rehearsal, Nino sat at the piano and started being very funny with the song, and we laughed..but then, we stopped and said `Gee, it sounds good...kinda country." Adds Nino: "I didnīt have enough range to sing `Deep Purpleī as originally written, so I used a falsetto, just kidding around. She was laughing, and I was laughing...then this girl walked in and said `I love that!ī" April: "And then Nino decided to sing one chorus alone, without me, and he didnīt know the words...so I started to softly feed him the words. We didnīt know what we were doing. But this girl said `I love the way youīre talking and heīs singing,ī so we thought maybe itīs a good idea." Nino: "We should have such an idea every six months."
With only 14 minutes of studio time remaining on the "Paradise" session, Ahmet allowed Nino to attempt a quick "Deep Purple." After briefing the studio musicians and singers, as there was no time to rehearse, Nino and April recorded the run-throughs of the 1939 Mitchell Parrish-Peter DeRose classic. They got two takes down within the time limit. The master tape was sent to Ahmet Ertegun in New York intact with some erroneous chords and Nino's wheezy, amateurish harmonica playing. Ahmet's silence was deafening. When finally asked his opinion, he said that "Deep Purple" was not only embarrassing, but the worst thing Nino and April had ever done. (One wonders if Ahmet had heard their "Baby Weemus," a novelty wherein April sings in a chipmunky childlike voice?)
Ahmet placed the dreaded "Deep Purple" on a distant back burner, and put "Paradise" on the market. When "Paradise" achieved only mediocre success, Nino wanted to be released from his Atlantic contract so he could sign with his friend Phil Spector, who believed in "Deep Purple." Eventually, Ahmet acquiesced to an ATCO release, with the specific understanding that if it wasn't a hit, Nino and April could have their contract back. The order of the artists' names on the label were reversed to Nino Tempo and April Stevens, and "Deep Purple" was unchained, soaring to #1 in the fall of 1963.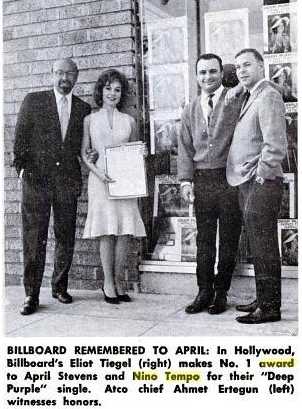 :::::::::::::::::::::::::::::::::::::::::::::::::::::::::::::::::::::::::::::::::::::::::::::::
Click here for a rare video (Windows Media) of Nino & April singing "Deep Purple" on a prime-time Dick Clark special from 1963. A short interview follows the lip-synched performance.
:::::::::::::::::::::::::::::::::::::::::::::::::::::::::::::::::::::::::::::::::::::::::::::::
Aside from its obvious success and popularity, the "Deep Purple" single had a few lesser known distinctions associated with it. For over 20 years, the B side, "I've Been Carrying A Torch For You So Long That I Burned A Great Big Hole In My Heart," held the record for the longest title on the flip side of any number one single.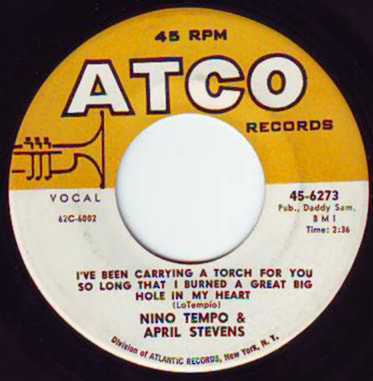 And, until Tina Turner came along with "What's Love Got To Do With It" in 1984, April had the dubious honor of waiting the longest period of time (12 years) between her first national hit and her first #1 hit. Persistence indeed!
More prestigious, of course, was the presentation of the 1963 Grammy Award to Nino and April for Best Rock and Roll Recording, besting such enduring pop music classics as Lesley Gore's "It's My Party" and Sam Cooke's "Another Saturday Night."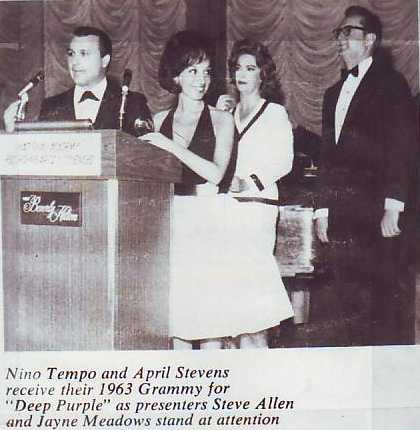 In 1975, "Deep Purple" again became a top 20 hit by Donny and Marie Osmond, "copied to the breath" according to April and Nino's delightful mother, Anna.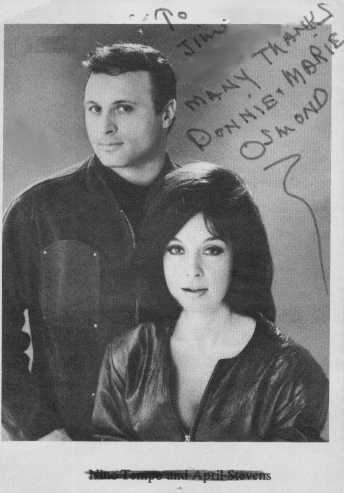 Click here for more on Nino and April's careers through the 60's