The Fifties . . .

Shortly thereafter, The Lo Tempios moved to Los Angeles, California. Influenced by Goodman, Nino began to study clarinet, then at the age of 13, changed his focus to the saxophone. One year later, he debuted professionally with Horace Heidt. He subsequently played tenor sax with Maynard Ferguson's band sporadically for six years.
Meanwhile, sister Carol spent a lot of time in record stores looking for the latest releases by her favorite singer, Nat (King) Cole. One day, while standing outside Hollywood's famous Wallach's Music City on Sunset and Vine, she was approached by Tony Sepe, the owner of Laurel Records, who asked her if she could sing. The young teenager thought he was probably flirting, but answered his question with an affirmative. Before long, she changed her name to April Stevens and recorded a few songs for Sepe's small independent label.
Still in high school, April then moved on to record for Society Records. On 'Don't Do It', her first for Society, her sweetly innocent approach to addressing very real concerns for a teenage girl was given a twist at the end by giving in to the boy's advances, as long as there's a commitment. "Don't Do It" was banned from airplay by those early '50s guardians of public morality. "Stop holding my hand," April pleaded; but in the second verse, she suggestively purred "I need it, how I need it..ooooh I want it." Consequently, "Don't Do It" sold by word of mouth only, from under the counter.
Henri René, the West Coast head of Artists and Repertoire for RCA Victor Records, heard "Don't Do It" and sensed an "unusual quality" in April's sensuous, alluring vocals. He convinced her to record material with him and his orchestra. In June, 1951, the German-raised arranger/conductor released Cole Porter's chestnut "I'm In Love Again" with April as his featured vocalist, singing in a throaty half-whisper, embraced by a lush string section. It remained on the charts for an amazing15 weeks and reached a peak position of #6. The song was especially popular with Korean War servicemen, and generated volumes of fan mail. When asked by her high school friends if she had heard that "sexy new singer," Carol Lo Tempio just smiled.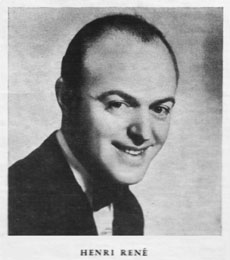 April followed her hit with another breathy offering, "Gimme A Little Kiss, Will Ya Huh?" (#10), and a cover of Patti Page's "And So To Sleep Again (#27). Other recordings and international club dates came afterward.


Click here for more on Nino and April's careers through the 50's