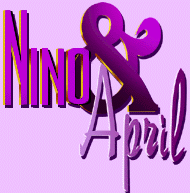 The following article is reprinted from Discoveries Magazine, October 1997 issue. A few changes have been made to correct typos, and double quotes have been changed to single except in actual quoted text. New editorial additions are printed in this typeface. With many thanks to Discoveries and Bill Adkins for permission to reprint!
APRIL STEVENS & NINO TEMPO
by Bill Adkins
Vocalist April Stevens is probably best known for her musical association with her brother, Nino Tempo. During the early 1960s with Atlantic, they had a burgeoning career and a string of hits including the No. 1 'Deep Purple'. But she had a career of her own before those heady days, just as she has had one since. Her coy rendition of 'Teach Me Tiger' in 1959 set the standard for pop singer femme fatales. And her most recent work--this year's rhythm and blues tinged 'Why Don't You Do Right?' (recorded with Tempo) and the entrancing Carousel Dreams (USA Music Group, 1990), a collection of ballads and romantic standards on CD--reveals what many have known for a long time: that April Stevens possesses a very special talent, perhaps even an underestimated one, that deserves to be appreciated and evaluated again.
Niagara Falls Beginning
Born Carol LoTempio to Sam and Anna LoTempio in Niagara Falls, New York, April Stevens and her brother Anthony (Antonino...later Nino) were raised in a middle-class neighborhood by Italian-American parents who were determined to give their children the kind of life and future they never had. Sam owned a grocery store and, through hard work, provided the material means for his family to live fairly comfortably--a not inconsiderable task in depression times. Anna had won a beauty contest when she was only 16, but a strict Italian father and brood of six younger sisters to care for combined to thwart whatever girlish dreams she might have entertained. But those very dreams were later to be lived out and realized through her children. "Mother was just in our corner all the way," April remembers. "She was very supportive of Nino and me. She later co-wrote a song with me called 'Together (We'll Always Be).'
Even as a shy little girl, April remembers loving to sing. At her parent's encouragement, she began entering talent shows and singing contests when she was about eight years old. "Luckily," she modestly says today, "I won almost all of them."
She recalls vividly an incident from this period that was to foreshadow her brother's success in later years and, indirectly, her own. "My parents had taken Nino and me to Buffalo to see Benny Goodman and his orchestra. My grandfather had bet seven-year-old Nino ten dollars that he wouldn't have the nerve to go up on stage and sing with Benny Goodman's orchestra. Well, he went up there, tugged Benny's coat and persuaded him to ask the band to play 'Rosetta' in the key of C, and with a tag at the end. His singing, timing and rhythm were so good, he brought the house down! Needless to say, he won the ten dollars. In fact, Benny asked him to come back a few nights after that to sing 'Rosetta'."
Young April was continuing to wow audiences of her own, usually singing popular standards and ballads of the day such as 'That Old Black Magic' and 'Moonlight Becomes You' in the soft, intimate style that was later to become her trademark. For a while, she tried taking voice lessons but was troubled by the attempt to change her singing style. "I decided that if I continued taking lessons, I would probably end up sounding pretty much like everyone else." To this day, she has received no technical musical training, preferring to rely upon her 'ear' and finely-tuned musical instincts.
Her parents, meanwhile, were being told by agents and music people in New York that California--and particularly Los Angeles--was the only place to be if their children wanted to seriously pursue a music career. So in 1948, leaving behind a thriving business and close friends and relatives, the LoTempios packed up and moved to Los Angeles in order to allow their children the opportunity to pursue their musical dream. (By this time, Nino was also an accomplished saxophone and clarinet player.)
Once in Los Angeles, April wasted no time jump-starting her singing career. She began making demo records for songwriters to demonstrate their songs, all the while hoping to catch the right person's attention. At Belmont High, she sang with the Hoagy Carmichael Teenagers, a vocal group backed by an orchestra (see photo section). On one occasion, when she was 14 or 15, Stan Getz played with the orchestra. On other occasions, she and Nino would do shows for military servicemen in Los Angeles, a local hospital in the Century City area of Beverly Hills, or the Hollywood Canteen (see photo section).
Discovery
One day in 1950, when she was shopping at the Wallach's Music City Store in Hollywood, there came the break she had been waiting for: "A very good-looking Italian man (Tony Sepe, owner of Laurel Records) came up to me and said, 'You look like a singer, are you?' I thought, 'What a line this guy has!' He said he owned a recording company and that he had a song that was already recorded, but he needed a vocalist for it. I didn't believe him, of course, but he must have been convincing enough because I did give him my phone number. And he later called--he was on the level--and he did have a song called 'No No No Not That.'"
April decided to record the song and sign with Laurel. "The song's opening lines were 'The moon is much too bright/You're holding me tight/No no no not that!' I was thinking of playing it straight, but he (Sepe) came into the room, turned (down) all the lights, and said, 'Now I want you to sing this song like you're in the back seat with a guy and he's getting fresh with you. I want you to almost talk the record.' I wasn't really singing it as much as I would have liked to, but he thought it was just great and it did kind of launch me."
Sepe had pulled out of her a performance that was considered very suggestive for those days. Although it would seem tame enough today, such a song then was considered risqué--so much that Carol LoTempio decided to change her name to April Stevens. "I was afraid the song might be banned and my career hurt. I picked the name 'April' because it's a beautiful name and because it happens to be the month I was born. The name 'Stevens' was picked at random.
Sepe, meanwhile, was running out of money and song material for her to record. "He simply had no more songs for me to sing after 'No No No Not That.'" Sensing a change was in order, she then signed with a vey small company called Society Records. It was owned by her manager at the time, Al Piantadosi, who saw great promise in April and encouraged her to sing in her natural singing style rather than the suggestive, talking style she had developed at Laurel. Her growing vocal artistry was now given a greater and freer range of expression. She was to record a spectrum of new material that ran the gamut from adult theme songs such as 'Don't Do It,' 'Shadow Waltz,' 'The Envelope And The Rope' and (Eden Ahbez') 'End of Desire', to children's songs such as 'In a Toyland' and (2-part mini-musical) 'Subway Express.' All of these were arranged by the highly-regarded Russ Garcia.
April was now beginning to attract a legion of fans and avid listeners. One of these was Henri René, the head of A&R at RCA. He had recorded Frankie Laine, Dinah Shore and Eartha Kitt, among others. Early in 1951, he persuaded April to move over to RCA Victor and record with him and his orchestra. The result was her biggest hit to date, 'I'm In Love Again' which broke into the Top 10 (peaking at #6). It was so popular that San Francisco disc jockey Vern Langdon (who later wrote many of the songs in her subsequent Carousel Dreams album) was asked to play it every half hour. Later that year, she recorded two other songs for RCA Victor that also did well--'Gimme A Little Kiss, Will Ya, Huh?' reached number 10 on the charts, and 'And So To Sleep Again' peaked at number 27 (receiving airplay competition from a simultaneous release by Patti Page for Mercury).
Of this period, April recalls, "I was receiving a lot of mail, especially from boys in the service. It used to come in boxes! Many wrote that I exemplified all their dreams of what was waiting for them back home. One even compared--I'll never forget it--my voice with 'a throat full of Angora sweaters!' That gave me a great feeling."
Hiatus
Just as her career was reaching its highest point, life took a sharp and unexpected turn: she had fallen madly in love with a wealthy Texas oilman considerably older than herself. Moreover, he was married and had children and grandchildren. He was especially unhappy about the prospect of her continuing her singing career and performing in gowns and low-cut dresses. Following her heart, she walked away from her career for him--for seven years (1952-1959). During this time, the promise (apparently made in good faith) of divorcing his wife and marrying her was dangled before April's love struck eyes. It was an all too clichéd story--and with an equally predictable ending. When the divorce they both hoped for didn't materialize, the relationship inevitably ended. "My career at this point was zero, of course. I was seven years older, and it was not a very happy time for me. But then I thought, 'I'm still young enough to do what I want to do in the music business.'"
Solo Again & Recording With Nino
April decided to launch her comeback with Imperial (following Henri René there) in 1959, and attained reasonable success (number 86) with 'Teach Me Tiger', a beguiling and playful novelty song written by her brother. (Years later, in 1986, it was to be requested as a morning wake-up call by the Challenger space shuttle astronauts.) In 1961, she teamed up to record with Nino for the first time for United Artists in 'High School Sweetheart' (arranged by Don Costa). It was an inauspicious beginning for the two--the song did only fairly well, but their real success lay ahead. Nino was at that time a session sax player with Atlantic. (This was just after working many UA sessions with Don Costa and the Philles sessions with Phil Spector.) After one particular session while backing Bobby Darin, he was approached by company owner and founder, Ahmet Ertegun, who was intrigued by his musical ability. April remembers, "Ahmet told him he had the feeling there was more to him than his sax and asked what else he did. Nino replied that he was thinking about creating a duo with me, and asked if he'd like to come to our house and hear us harmonize. Well, after eating a meal of Mom's home cooked spaghetti and hearing us sing, he pulled a contract out of his coat pocket and signed us on the spot!"
It was the beginning of a long and fruitful relationship. Assisting them in some of their early Atlantic sessions in 1962 were future stars Sonny & Cher, Glen Campbell and Darlene Love. "Cher, whom Nino dated for a while, had a strong voice even then, and when she would sing in the background, I used to say, 'Cher, you're singing too loud!', and she'd just laugh. She was such a doll, and even a bit shy." Glen Campbell at first couldn't believe that Nino and April were brother and sister. "This used to upset Nino because he wanted us to be known as brother and sister so his chances with the girls wouldn't be ruined! He'd say on stage, 'Girls, I want you to know, this is really my sister!'"
Although their releases from this period did fairly well--'Sweet and Lovely' peaked at #75 and 'Paradise' bubbled under at #126 --no one could have prepared them for the breakthrough or the quantum leap of success they experienced in 1963 with 'Deep Purple'. The song that was to become the number one hit in the country and achieve national--even international-- stardom for them had been a hit almost 30 years before. April, who had loved and sung many of the old, romantic ballads, suggested to Nino that they record the song. During its (impromptu--live!) recording, Nino forgot some of the words in the song's bridge and April began softly whispering them to him as he sang--an 'accidental' effect which subtly underscored the gentle pathos of the song.
National and international tours followed. They attended the San Remo Music Festival in Italy with Frankie Laine and Ben E. King, toured Germany and England and sang 'Deep Purple' in Italian on Italian TV. "And that wasn't easy, even though we are ourselves Italian, of course." They also toured 16 weeks with the Righteous Brothers and did a show with Stevie Wonder in San Francisco. Atlantic threw them a Grammy 'thank you' party attended by such celebrities as longtime friend Cary Grant and Jayne Mansfield. "I was absolutely stunned when afterwards Jayne approached me and said she was a big fan of mine, and got her idea for her career from hearing my voice. It was such a flattering thing to say."
Their follow-up single to 'Deep Purple', 'Whispering', was moving rapidly up the charts in late 1963, but then was stopped cold at number 11 by the Beatles. One day the song sold 30,000 copies, the next day it was zero. The entire music culture seemed to change overnight because of the British invasion--particularly the Beatles.
During the next few years, they were to enjoy modest success with such pop standards as 'Stardust', 'I Love How You Love Me' and 'Hey Baby'. April recorded another version of 'Teach Me Tiger' in 1965, but it failed to achieve the popularity of her original 1959 recording. Meanwhile, they were both becoming restless with Atlantic. Wanting to stretch their wings, they switched over to the White Whale label in 1966. Nino had written 'All Strung Out' for Bill Medley of the Righteous Brothers and for some reason, the song was never recorded. He and April decided to record it themselves and it became their first song with White Whale. April believes that, although the song did fairly well (#26), it would have done much better if it had been more aggressively promoted or if they had had better management. "Nino and I never really had the right manager that would take over and really put us in the right place at the right time. And that's what it's all about."
They continued recording together--with varying degrees of success and for different record labels--over the next decade or so. Their 'Sea of Love' for Bell in 1969 became something of an international hit. In 1974 April recorded and wrote the lyrics for 'Wake Up and Love Me' for A&M. "For some reason, it was very popular on the R&B stations, which was very surprising to me because I don't consider myself an R&B singer. But, I was told every time it played on the stations, the phones would light up. But A&M--incredibly--never promoted it. I was told it could have been a big hit. Again, we didn't have the managerial backing which would have been especially helpful."
April Love
April had always led a fairly active social life that included its share of romance, but it was not until 1983 that she met the man of her dreams--"I was a late-bloomer, I suppose!"-- and married. Bill Perman had been a former business associate of April and Nino's old friend Lenny Poncher. Poncher had invited them to dinner at a posh Beverly Hills restaurant where Bill was also present. Bill and April felt an immediate rapport. "Bill's wife had just passed away in Mexico. My father had passed away the year before and I was still feeling his loss. As we sat talking to each other, we were like sponges--he was trying to console me about my father and I was trying to console him about his wife. I knew driving him home that night that he was the man I was going to marry."
Recording With Nino--Part II
In 1985, April returned to recording and working with Nino again by accompanying him in a Country/Western song he had written--'I'm Fallin' For You.' Although it was not released at the time, it was included in this year's Sweet And Lovely: The Best of Nino Tempo and April Stevens--the CD collection of their greatest hits.
In 1990, 30 years after Imperial released her first album Teach Me Tiger in 1960, Carousel Dreams (USA Music Group) was released. (see 'Buy Music' section!) An old friend of April and Nino's--Vern Langdon, who owned Electric Lemon Records--had written some songs and recorded all the tracks for himself to sing. But not being a vocalist himself, he was disappointed with his vocals. At this point, Nino was asked to come in as producer, and Langdon asked April to come in as vocalist using the same arrangements and instrumental tracks he had laid down. Nino remembers, "April sounded great. The problem was the arrangement and background tracks. As producer, and Vern's friend and April's brother, I couldn't let those songs go out as they were. I salvaged it as best I could-- took out some tracks and corny violin things. To fill in what I had taken out, I played saxophone in a few places and made it a releasable album, I think."
At about the same time, Nino renewed his contract with Atlantic--returning to the fold after 25 years, this time as a tenor saxophonist instead of as a vocalist. In 1992, his second Atlantic solo album, Nino, (now incredibly out of print!) included Dori Caymmi's 'Amazon River' to which April contributed a solo vocal, hauntingly reminiscent of Sergio Mendes and the best of the Brazilian jazz vocal tradition.
Earlier this year, April and Nino were together again recording 'Why Don't You Do Right?', an R&B track that appears on the Sweet & Lovely CD. Dick St. John (of Dick & Dee Dee) had suggested to Nino that he approach Varese Sarabande about putting together their best songs in a collection for CD. It was something they had always wanted, and they were thrilled by its release in April. April is now negotiating with Varese Sarabande about doing the same with her greatest solo hits.
Today, she lives happily with her husband in Arizona. "It's been a fabulous dream marriage, and I'm extremely happy! We travel all the time and Bill loves his golf. I do miss singing though, especially with Nino. But guess what? He just moved here! I'm thrilled by it, of course. So who knows what the future may bring?" Does she see them getting together again-- recording and performing? "I hope so! I would love for us to do some concerts. Not necessarily on a regular basis--my husband might not be too happy with that--but occasionally would be great fun. I'm very hopeful."
So are we, April, so are we!
(Special thanks to April Stevens, Nino Tempo, and Jim Chaffin)
(Nino has subsequently moved back to L.A., and is now working on developing projects that may indeed call for some new recordings from our heroes. Our fingers remain perpetually crossed!)